What makes a film great? Quite simply, it resonates with you. What makes a film one of the best of the year? It resonates with you in ways you have never seen before. The film is original in storytelling and film making and it grabs your more than any other film.
Also, I haven't been able to see fantastic films this year such as La La Land or Moonlight. This is either because they have not been released until very late 2016 to early 2017. But if I end up thinking that these films are absolutely fantastic. I will certainly put them up next year.
Now without further ado, let's begin with number 10.
10. Zootopia.
Zootopia had everything you want in a kids film. It had fun, heart and characters you believed in and felt for. In a year of political divide, this movie showed, in its own way, the pitfalls of discrimination and separation. I just loved how despite being vibrant and fun, it desired to make a statement and be meaningful.
9. Nocturnal Animals/ The Revenant

These two films have so much in common I decided to put them together. Both were well acted, had lush cinematography and focused on the theme of revenge. The Revenant explored the brooding nature of revenge and survival. Nocturnal Animals did it in a one-punch knockout moment.
I like to note that Michal Shannon gave my favorite supporting role this year as the police detective in Nocturnal Animals. That is because I think he may go unnoticed by various award ceremonies.
Eye in the Sky that gives you a bit of everything in a war film. It is a blend of political prowess and on-the-ground tension. This was a cast of great actors that blur the lines on whether of not to stage a missile strike on a terrorist safe house with an innocent life residing in the blast. This was also a great live action swan song for the great Alan Rickman
I love this movie even more than when I watched it the first time. It is alongside with Zootopia as the most relevant films of the year. That is because both are making sociopolitical statements of our world today. The Big Short is a story that communicates to the average moviegoer the corruption of the banks that were exploiting their system hidden under a cacophony of jargon.
From a filmmaking perspective, The Big Short is also so fun. There are four different stories in this film. All four were interesting. The movie was such a smooth, well-written ride and tried to educate us at the same time. That is rare for any movie, rarer still, to succeed on that level.
6. Son of Saul
The most harrowing of all the entries on my list, more so than The Revenant. Son of Saul is a holocaust movie that I can assure you is unique. It is not going for sentimentality nor graphic exploitation. You create the picture for yourself.
How so? Well, Son of Saul is shot in extreme close-ups of Saul the protagonist. Only his face is clearly visible. Graphic events are represented almost exclusively in sound and Saul's reactions to the events that occur. The thing that kept me watching was the glimmer of hope that resided in Saul and that was enough.
5. The Lobster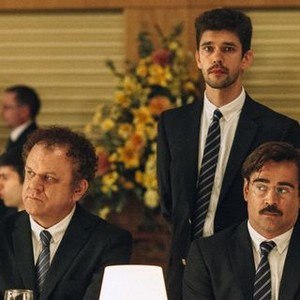 Now we are into the top 5 with the most unusual entry. A film that would frustrate a lot of people without a sense of humor. The Lobster is the driest and most odd film about of a man who enters an apartment for 45 days and has to find a significant other in that time. Otherwise, he gets turned into a lobster.
The Lobster is not as fun as it initially sounds. It is a deadpan comedy that is so subtle that you can easily miss all the jokes. Also if you are not into weird, unconventional comedy it may come off as too absurd. If you are like deadpan, left-of-centre comedies, The Lobster is a fantastic treat. It is my favorite comedy of the year.
4. Mustang
Mustang was the first film this year that I loved in the deepest sense of the word. It was a life-affirming film about these five girls who are isolated in their home by their ultra-conservative father to be married off. It was a deepening moving film that made be feel calm but elated by the end.
Mustang was the first foreign film that I reviewed and it made such a positive impression on me. Mustang does not hold back on the harsh reality it sets, not is it restricted on the bright and wonderful moments that were interwoven so seamlessly. This makes Mustang one of the most beautiful films of 2016
Hacksaw Ridge is one of the exceptionally rare films where nothing was wasted. It was the only movie I saw where the audience was applauding. If there is a film in the Australian film industry should be holding as a benchmark, this is it. Hacksaw Ridge had the greatest use of dialogue that I have heard this year. It is funny, touching and dramatic. It has also given new life to the actor's careers.
2. Room
Room is just heartbreaking. It's about a mother and her 5 year old son adjusting to the real world. There is a mountain of despair alongside a mountain of hope accentuated by the perfect chemistry between Bree Larson and Jacob Tremblay. They were the best screen duo of the year bar none.
f things all over the wall and it all stuck. The story about an Amazonian native in the middle of European settlers exploiting resources in the land.
This film had more thematic ideas than any other film I saw this year.
Ciro Guerra brings a daring piece of work in Embrace of the Serpent. He threw a ton of ideas in this film in which the visual imagery of the Amazonian rivers and rainforest help draw you into the journey that is undertaken. It is one of those stories like Apocalypse Now or Django Unchained where the protagonists experience deeper levels of hell the further they travel and each layer of hell has a statement to make.
Embrace of the Serpent also showed ideas like the thorns of survivor's guilt and handing over you final spark to faith to someone you need to trust to keep it alive. It isn't a poignant film but it draws you in with its themes, it's black and white visuals and it's addiction for ambition and execution.
So that's my list of the ten best films of 2016. Honorable mentions (alphabetically) include:
Captain America: Civil War for creating a blockbuster film that exceeded it's high expectations. One of the rare movies where I cannot wait for the sequel.
Deadpool: Crngrats on making the funnest superhero movie Marvel and one of the funnest movies of the year. The meta humor with a authentic romantic angle give the movie a great edge. It more than makes up for it's lack of multi million dollar set pieces.
Dr. Strange: The best visual effects from any film this year. Cumberbatch delivers a great performance as Steven Strange.
Green Room: For producing the best thriller film of the year that went for a less-is-more approach. Patrick Stewart makes the situation of 4 young adults trapped in a room of killer neo-nazis even more morbid and engaging.
Ouija: Origin of Evil: A movie that scared the crap out of me and gave me an adrenaline rush hours after seeing the movie.
Pete's Dragon: It created a kids film which walking though the fine line between entertaining little kids without feeling condescending to adults. Illumination Entertainment has not been able to do that for years. 2016 was a (mostly) great year for Disney
Sing Street: For being the only feel-good movie that I saw. Great original songs and a better soundtrack than Suicide Squad. The prom sequence was absolutely spectacular
Sunset Song: An incredible story about a troubling family in Scotland during the First World War. It is about a woman who gains and loses many things on her roller coaster ride. The cameraman makes it feel like you are watching the story unfold your very eyes.
The Jungle Book: The best remake this year. Neel Sethi was the second best child actor this year (After Jacob Trembly in Room). That kid had to do so much. I was surprised that the director is the same man who fought in the Mixed Martial  Arts in Friends before it was cool.
So that is the list the best films of 2016. Coming up is the rotting end that comprises of the worst of 2016.